New Final Fantasy XIII Lightning entrance sign 09.7.31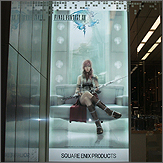 We everyone have you already seen it with your own eyes?
Of course I am speaking of the sweet new Final Fantasy XIII Lightning entrance sign!!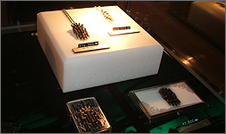 Up in the PRODUCTS area of the store we have all new Final Fantasy XIII products now on sale such as Silver Necklace Lighting, L'Cie Business Card Case and *L'Cie Zippo (only available in Japan), but do please keep in mind quantities are limited.

Do not forget we will be open every day for the month of August, even Thursdays!
At last, somebody new has arrived… 09.6.19
For over 4 years the guys have graced the entrance to the Square Enix SHOW CASE. But now is their time to step down for another…

As I hope you all know, Thursday is our weekly CLOSED day. This is when the changing of the guards took place.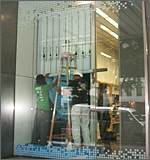 You better come and have a look for yourself, so you can tell your grandchildren you were there at the dawning of a new age.

We are looking forward to seeing you!
(We carefully rolled them up and are currently thinking of a way to show them off in the future)
And now a new guardian awaits covered with a white sheet on standby for unveiling.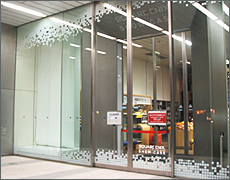 The entrance guardians AC Cloud & Seph to soon retire... 09.5.15
The popular entrance guardians AC Cloud & Sephiroth which have protected the SQUARE ENIX PRODUCT SHOW CASE since its opening in August 2005, will soon be retiring from their faithful duty.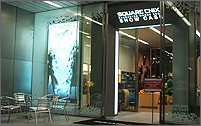 It is also hard to say goodbye, but I am sure you all will have your cameras ready for some fresh new faces.

Of course I would love to tell you who but unfortunately that is still a secret.
I hope you all are looking forward to the new surprise.
For those of you who haven't given them a good look, or want one last picture, now is the time to come before they disappear.